Working Church Software Prices
| | | |
| --- | --- | --- |
| Module | Light | Standard |
| | | |
| | | |
| - People / Contacts | | |
| - Households | | |
| - Groups | | |
| - Contributions | | |
| | | |
| | | |
| | | |
| | | |
| | | |
| | | |
| | $77 | |
| | | $9.97 |
| | | |
| --- | --- | --- |
| Unlimited members version | Light | Standard |
| Download only | $97 | $197 |
| Download and CD | $105 | $205 |
| Upgrade Light to Standard | | $100 |
| Upgrade Light to Standard on CD | | $108 |
| Continuous Tech Support (Included for 1st year) | $27 | $47 |
| | | |
| --- | --- | --- |
| Up to 100 members version | Light | Standard |
| Download only | $47 | $97 |
| Download and CD | $55 | $105 |
| Upgrade Light to Standard | | $50 |
| Upgrade Light to Standard on CD | | $58 |
| Continuous Tech Support (Included for 1st year) | $17 | $27 |
Note: To order using a credit card or PayPal, simply click any of the Buy Now buttons above.
You do not need a PayPal account to order. All major credit cards accepted.
You may also contact us by mail at: Brothers in Christ Software, 760 Piney Grove Church Road, La Grange, NC 28551.
---
Your data is Safe and Secure. Create password-protected user accounts for access to Working Church software. Restrict access to sensitive financial data by controlling menu options for each user.
Changeable searches and views. Switch between multi-line spreadsheet view and single-record form view at the click of a button.
Reports. Numerous reports and lists are available, already built-in to each of your critical need areas.
Exports. Report data can be sent to spreadsheets, or other applications, to customize results into your own format.
Mouse-over help. Position your mouse pointer over any field for a brief description of that field's intended use.
Context-sensitive help. Complete help is built-in and available, on-screen.
Guaranteed. 30 days. No questions. Full refund. If the software fails to live up to your expectations or just isn't right for your organization.
---
A free, fully-functional demo of Working Church software is available for download. Click the image, or link, below for instant access.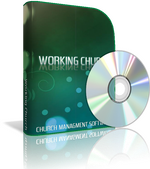 Click here to get your free demo of Working Church.