Get Your Free Church Management Demo

Download Your Free Demo
A free, fully-functional demo of Working Church: church management software is available for download or on CD. Click the image, or link, below for instant access.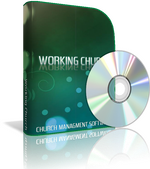 Click here to get your free demo of Working Church - church management software.

Order Your Demo on CD
If you prefer, you may order the demo on CD. All we ask is that you help us keep our software prices as low as possible by paying shipping & handling costs.
| | |
| --- | --- |
| Working Church Demo CD | $9.97 |
You do not need a PayPal account to place your order.
You may also contact us by mail at: Brothers in Christ Software, 760 Piney Grove Church Road, La Grange, NC 28551.
---
System Requirements
Microsoft Windows XP® operating system, or newer (Vista, Windows 7)

Microsoft Access 2010® or *free* Access runtime (our installation routine will automatically check for and install this for you when necessary)

Pentium-class CPU (or better)

256MB RAM

10GB Hard drive

CD-ROM or internet access (DSL or Cable recommended).