Print Church Directories On Your Own Computer
Of the many time-saving and money-saving features built in to Working Church, our complete church management software solution, what may be the quickest payback for you lies in the ability to print photographic membership directories on your computer.
Imagine for a moment...the freedom, the convenience, the flexibility of printing your own pictorial church directory...on demand. On your schedule. When you want a directory.
Imagine, too, the ability to print church directory "updates" whenever needed. Again, when you want, or need, to print one.
If you would rather not actually print the church directories yourself, you could simply email your formatted, finished pictorial directory pages to your local copier store and let them do the printing for you. (Staples, Walmart, Walgreen's).
You are free from scheduling around photographers or having your members pressured into buying photographs they might not want or need. Our church software does it all for you.
All you have to do is supply the pictures.
Think how the money you save from producing just one church directory could easily more than pay for this church management database software.
With Working Church software, you can:
Click on the links below for examples of some of the many types of church pictorial directories that can be printed using your own computers and printers ... for free ... when you use Working Church our church management software.
2-column Membership Pictorial Directory
3-column Membership Pictorial Directory
Note: the sample church pictorial directories above require Adobe Reader® to view. Also, they may be slow to open, depending on your internet connection speed and/or internet usage. This is not an indication of how fast the software will work on your own computer or network.
---
Groups - the "hidden gem" to Small Group Management
Does your church encourage and support cell or small group ministries?
WorkingChurch makes organizing them a snap.
Our software allows you to create an unlimited number of groups, or categories, for organizing your church membership and other contacts.
Other church software programs for member management may require you to live with their predefined groups and categories, for members,cell orsmall groups, etc.
But, with Working Church you are free to create groups such as: Members, Visitors, Cell Groups, Small Groups, Elders, Deacons, Board Members, Men of the Church, Women of the Church, Youth, Suppliers, Vendors ... the list is endless.
Your groups are unique to your ministry.
Place each of your members into as many different groups as they belong, along with dates of membership and other pertinent information.
Then, send emails or print mailing labels for the entire group.
Send schedules of meeting times and places, prayer concerns or general information as often as you like.
All at the click of a button.
We guarantee you will save time and energy by avoiding the confusing task of removing a contact from one database and inserting them into another.
Once you've tried Working Church software for yourgroup and member management needs, we think you will soon agree that our concept of group memberships, with the power and flexibility it puts in your hands, sets a new standard for member management software, and beats any other church attendance, church management software, or membership software products hands down, especially at our affordable price (click here to see).
---
A free, fully-functional demo of Working Church software is available for download. Click the image, or link, below for instant access.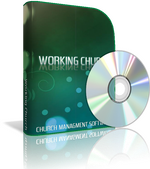 Click here to get your free demo of Working Church - church management software.
Order Your Demo on CD
If you prefer, you may order the demo on CD. All we ask is that you help us keep our software prices as low as possible by paying shipping & handling costs.
| | |
| --- | --- |
| Working Church Demo CD | $12.97 |
You do not need a PayPal account to place your order.
You may also contact us by mail at: Brothers in Christ Software, 760 Piney Grove Church Road, La Grange, NC 28551.
---
Member Management
Track members, visitors, groups, households, contributions, tithes, offerings. Print labels, church membership directory, statements, annual giving reports … more
Members/Visitors/Contacts
Unlimited people/contacts (church members, visitors, vendors – name, multiple mailing addresses, multiple phones, multiple emails, photo, etc.)

Unlimited member management ... membership in groups, households
Unlimited history (date of baptism, hospital visits, notes, church attendance, donations, pledges, etc. – for each contact)
Group Memberships
Unlimited groups (elders, visitors, shut-ins, suppliers, etc.)
Households
Contributions
Unlimited fund types (missions, building, general, pledges, etc.)

Track contributions by fund type

Track contributions by member

Balance to deposit totals
Maintain multiple libraries - books, audio, video, (pastor's separate from church). Print checkout log … more
Book Library
Make notes regarding topics, sermon usage

Track borrowing…to and from others, with date returned

Track ownership…church or individual

Track collectable, or insurance, value
Audio Library
Record artist, song title by track

Make notes regarding content, lyrics

Track borrowing…to and from others, with date returned

Track ownership…church or individual

Track collectable, or insurance, value
Video Library
Record actors, chapters by track

Make notes regarding topics

Track borrowing…to and from others, with date returned

Track ownership…church or individual

Track collectable, or insurance, value
Keep lists - visitation, prayer, office supplies, to-do, etc. Print lists ... more
Shopping Lists
Unlimited number of stores

Unlimited number of categories of items for each store

Unlimited number of items within each category with estimated cost (optional)

Track total estimated cost

Print shopping list of only items marked for purchase
General Purpose Lists
Unlimited number of lists, such as prayer, "To Do", visitations, etc.

Track priority, status and completion date

Auto-fill a list with group membership (such as: list of shut-ins to visit next week)
Plan events and meetings - weddings, workshops, board meetings, agendas. Track registration fees. Record attendance. Save minutes. Print calendar of events … more
Unlimited categories of events (weddings, banquets, funerals, etc.)

Unlimited number of items within each category

Record reservations by date, start/end times needed, member name, reason for reservation

Automatically reserve Resource Scheduling database items

Auto-fill a list with group membership as attendees

Track event fee collections (when applicable)

Track regularly scheduled meetings and attendance
Schedule resources - facilities, vehicles, audio and video equipment. Post reservations automatically from Event Planning … more
Unlimited categories of resources (rooms, vehicles, audio/visual equipment, etc.)

Unlimited items within each category

Record reservations by date, start/end times needed, member name, reason for reservation

Automatically posts reservations from Events and Meetings
Prepare financial reports - budgets, income, expenses. Print financial statements, budget vs. actual report ... more
Unlimited categories of accounts (expenses, income, depreciation, etc.)

Track accounts with name, number, category

Track transactions for each account by number, date, description and amount

Compare current and prior year budgets versus actual expenses for each account
Manage assets - buildings, vehicles, computers, audio and video equipment. Record repairs. Print depreciation report, disposal lists … more
Unlimited categories, statuses, conditions and locations

Track purchase price, date purchased, current value, etc.

Record model and serial numbers

Track maintenance and repairs…date, cost, copies of receipts or checks, and notes

Track annual depreciation by year

Track sale price and disposal date