Full-Price Rebate Offer On Church Software
Get a full-price rebate on our church management software by referring just 3 other sales.
We know your contributions are down in the current economic climate.
You may be considering church management software, but are watching every expense these days.
Since church software is our ministry to ministers, we are taking a step of faith in making this offer to you.
We will give you our software just for telling your friends about us.
Honestly, we want everyone to have free church software.
How our referral program works:
For every 3 people you recommend who purchase the software we will rebate your entire purchase price.
There is no limit to the number of rebates you can receive.
As you continue to recommend Working Church and 3 more people buy the software, we will send you another rebate check.
Each of your referrals will be given the same opportunity to receive a full-price rebate and potentially get free church software too.
To get started, simply send us an email requesting that you be given a sponsorship number. We will assign a number unique to you and email it back to you.
Then, when you recommend our church management software to others just be sure to give them your sponsorship number or have them tell us "you sent them". They can contact us directly, or we'll be glad to make first contact while mentioning your name.
That's it. We'll take care of the rest.
We are very serious about satisfied customers referring our church management software to their friends, fellow pastors, colleagues and associates, and we'd love your help getting the word out.
Click here for more information about our free church software offer and get your sponsorship number now.
In His Service,

P.S. If you haven't already done so, why not download your free, fully-functional demo of Working Church software? Click either the image, or the link, below for instant access to the demo.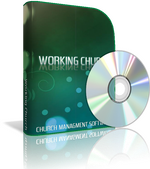 Click here to get your free demo of Working Church : church management software.
Order Your Demo on CD
If you prefer, you may order the demo on CD. All we ask is that you help us keep our software prices as low as possible by paying shipping & handling costs.
| | |
| --- | --- |
| Working Church Demo CD | $9.97 |
You do not need a PayPal account to place your order.
You may also contact us by mail at: Brothers in Christ Software, 760 Piney Grove Church Road, La Grange, NC 28551.
---
System Requirements
Microsoft Windows XP® operating system, or newer (Vista, Windows 7)

Microsoft Access 2010® or *free* Access runtime (our installation routine will automatically check for and install this for you when necessary)

Pentium-class CPU (or better)

256MB RAM

10GB Hard drive

CD-ROM or internet access (DSL or Cable recommended).